I was introduced by my best friend to Jin Patisserie back in 2007 during my visit to Los Angeles. Jin Patisserie is located on the infamous Abbot Kinney Boulevard in Venice California.
Their menu :
We had an afternoon tea there and the tea set looked very appealing and they tasted amazing.
Jin Patisserie instantly became my favorite dessert place in LA.
It was also my first time being introduced to french macaron which has now become my favorite french pastry.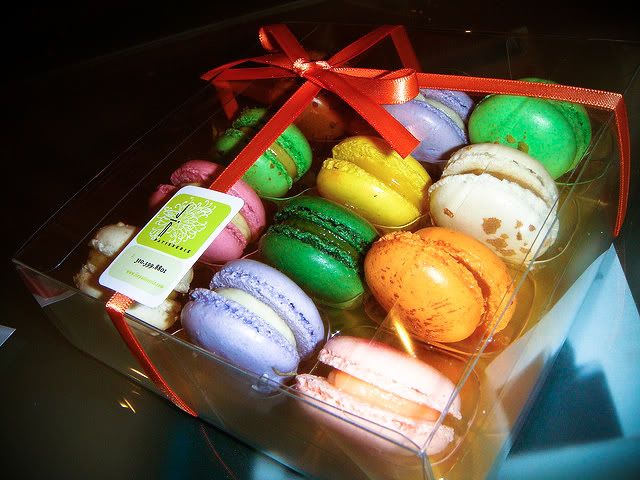 I visited Jin again this year during Mother's Day and they were serving a special Mother's day set course.
For the main course I had a proscutto with burrata and arrugula sandwich which came with
organic green salad with lemon dressings and orange segments.
The sandwich and salad were really fresh and tasty.
Next was desserts:
Lolli Pop
Firzzy Pop Rock Choco
Citrus Buttercake
Macaron
Assiette de Mini Desserts
Yogurt With mango compote
Candied hazelnut cream with meringue
Creamy guanaja chocolate with caramel on almond tart
The petit four totally blew me away. I could easily see this in any Michelin-starred restaurants in the world. I felt really honored and lucky that day as pastry chef/owner Kristy Choo came out of the kitchen, approached our table and explained to us the petit four one by one in detail. My friend told me that she didn't come out of the kitchen often. Not only did she explain the desserts, but she also gave us a sample of her newest creation : Soul ( Sponge, vanilla creme diplomat, raspberry compote, almond crumble ). The sponge cake was well balanced in term of flavor and it was not too sweet. I was totally in cloud nine that day.
Last but not least, I bought two boxes of macaron from Jin Patisserie back to Vancouver.
I noticed they had increased the size of the macaron and they changed some of the flavor as well. Nonetheless, they were sublime.
From Left to Right :
Yuzu
Hazelnut
74% Chocolate
Raspberry
Pistachio
Caramel
Rose
Tea
Vanilla
Ume(Sour Plum)
Food :
Service :
Atmosphere :
Share this :
Tweet